About us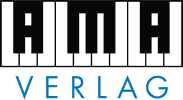 AMA Publishing: by musicians for musicians
Founded in 1989 by musician Detlef Kessler, who began his career as a professional drummer.
The main focus of AMA Publishing is instructional literature, playing materials and music theory for rock, pop and jazz as well as for classical music education.
Our authors are active music professionals whose instrumental schools and playbooks are the result of their often many years of teaching practice.

Edition Margaux: Happy Guitarists Since 1988
Specializing in guitar literature, Edition Margaux was founded in 1988 and has been part of the AMA Publishing Group since 2002. With its program of solo, ensemble, and orchestral literature with guitar, Edition Margaux has enriched the repertoire for guitarists for more than thirty years.

Edition Gravis
Founded in 1983, the publishing house is now part of the AMA Publishing Group. Edition Gravis' program includes works by more than 100 authors. The publishing house publishes chamber music as well as stage and orchestral works. The program focuses on works by authors of contemporary music. In addition, however, the publishing program also includes arrangements of music-historical works, such as Jorge Rotter's reconstruction of Johannes Brahms' Serenade No. 1 in D flat major, op. 11, as a nonet, or Mathias Weber's symphonic development of César Franck's Piano Quintet in F minor.

New Music Publishing: The specialist publisher of contemporary music.
Founded in 1957, Verlag Neue Musik publishes music ranging from classical modernism to works by the youngest and youngest generation of composers. Our wide range of over 500 authors covers the entire repertoire of the divergent avant-garde scenes. The highest criterion of our new releases is the high quality of the compositions.
In addition to the focus on new music in all instrumentations, the program includes musicological literature and an extensive orchestral and opera library of classical music.

Kreuzberg Records
The Kreuzberg Records label, founded as a subsidiary of Verlag Neue Musik and also part of the AMA Publishing Group, complements the sheet music editions published by our publishers with excellent CD recordings of the works issued. In some cases these are recorded by the composers themselves.
Here the label includes style-breaking mixed, weird sounds between E- and U-Musik, world music, but also songs and children's music. This openness to music does not mean disorientation, but rather testifies to what makes up our society – a multicultural community moving between many (sound) worlds.